Chemical composition of Soya seed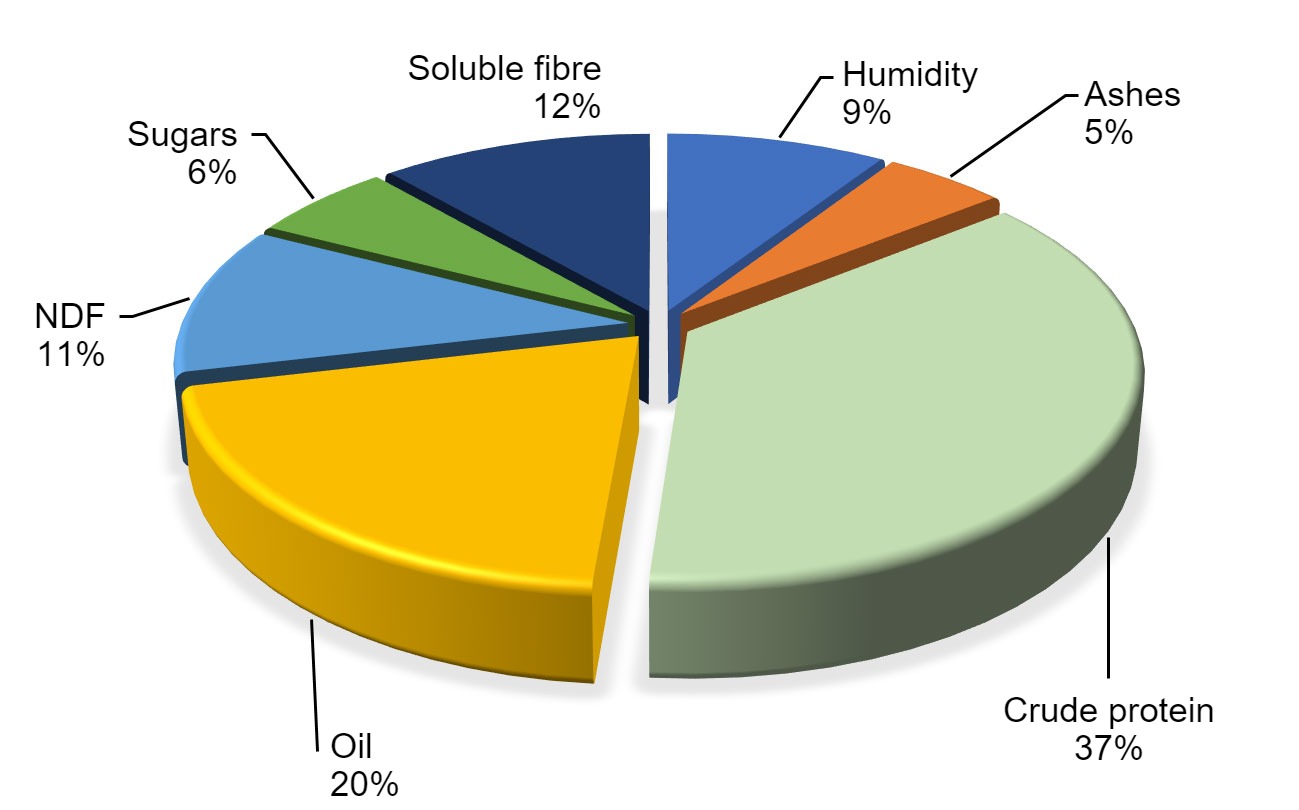 The oil and protein content together account for about 60% of dry soybeans by weight; protein at 40% and oil at 20%. The remainder consists of 35% carbohydrate and about 5% ash. Soybean cultivars comprise approximately 8% seed coat or hull, 90% cotyledons and 2% hypocotyl axis or germ.
The majority of soy protein is a relatively heat-stable storage protein. This heat stability enables soya food products requiring high temperature cooking, such as tofu, soymilk and textured vegetable protein (soya flour) to be made.
The principal soluble carbohydrates, saccharides, of mature soybeans are the disaccharide sucrose (range 2.5–8.2%), the trisaccharide raffinose (0.1–1.0%) composed of one sucrose molecule connected to one molecule of galactose, and the tetrasaccharide stachyose (1.4 to 4.1%) composed of one sucrose connected to two molecules of galactose. While the oligosaccharides raffinose and stachyose protect the viability of the soy bean seed from desiccation (see above section on physical characteristics) they are not digestible sugars and therefore contribute to flatulence and abdominal discomfort in humans and other monogastric animals; compare to the disaccharide trehalose. Undigested oligosaccharides are broken down in the intestine by native microbes producing gases such as carbon dioxide, hydrogen, methane, etc.
Since soluble soy carbohydrates are found in the whey and are broken down during fermentation, soy concentrate, soy protein isolates, tofu, soy sauce, and sprouted soya beans are without flatus activity. On the other hand, there may be some beneficial effects to ingesting oligosaccharides such as raffinose and stachyose, namely, encouraging indigenous bifidobacteria in the colon against putrefactive bacteria.
The insoluble carbohydrates in Soybeans consist of the complex polysaccharides cellulose, hemicellulose, and pectin. The majority of Soybean carbohydrates can be classed as belonging to dietary fiber.
Protein, vitamins, and minerals
Soybeans are considered by many agencies, including the US Food and Drug Administration, to be a source of complete protein.A complete protein is one that contains significant amounts of all the essential amino acids that must be provided to the human body because of the body's inability to synthesize them. For this reason, soy is a good source of protein, amongst many others, for many vegetarians and vegans or for people who cannot afford meat.
According to the FDA, "Soy protein products can be good substitutes for animal products because, unlike some other beans, soy offers a "complete" protein profile. Soybeans contain all the amino acids essential to human nutrition, which must be supplied in the diet because they cannot be synthesized by the human body. Soy protein products can replace animal-based foods–which also have complete proteins but tend to contain more fat, especially saturated fat–without requiring major adjustments elsewhere in the diet."
The gold standard for measuring protein quality, since 1990, is the Protein Digestibility Corrected Amino Acid Score (PDCAAS) and by this criterion soy protein is the nutritional equivalent of meat and eggs for human growth and health. Soybean protein isolate has a Biological Value of 74, whole soybeans 96, soybean milk 91, and eggs 97.[30]
Soy protein is essentially identical to that of other legume pulses seeds.[31] Moreover, it has the highest yield per square meter of growing area, and is the least expensive source of dietary protein.[citation needed]
Consumption of soy may also reduce the risk of colon cancer, possibly due to the presence of sphingolipids.[32]
Omega-3 fatty acids
Roasted soybeans
Omega-3 fatty acids, for example, alpha-linolenic acid C18-3, all cis, 9,12,15 octadecatrienoic acid (where the omega-3 refers to carbon number 3 counting from the hydrocarbon tail whereas C-15 refers to carbon number 15 counting from the carboxyl acid head) are special fat components that benefit many body functions. However, the effects which are beneficial to health are associated mainly with the longer-chain, more unsaturated fatty acids eicosapentaenoic (20:5n-3, EPA) and docosahexaenoic acid (22:6n-3, DHA) found in fish oil and oily fish. For instance, EPA and DHA, inhibit blood clotting, while there is no evidence that alpha-linolenic acid (aLNA) can do this. Soybean oil is one of the few common vegetable oils that contains a significant amount of aLNA; others include canola, walnut, hemp, and flax. However, soybean oil does not contain EPA or DHA. Soybean oil does contain significantly greater amount of omega-6 fatty acids in the oil: 100g of soybean oil contains 7g of omega-3 fatty acids to 51g of omega-6: a ratio of 1:7. Flaxseed, in comparison, has an omega-3:omega-6 ratio of 3:1.
Isoflavones
Main article: Isoflavone
Soybeans also contain the isoflavones genistein and daidzein, types of phytoestrogen, that are considered by some nutritionists and physicians to be useful in the prevention of cancer and by others to be carcinogenic[citation needed] and endocrine disruptive[citation needed]. Soy's content of isoflavones are as much as 3 mg/g dry weight.[citation needed] Isoflavones are polyphenol compounds, produced primarily by beans and other legumes, including peanuts and chickpeas. Isoflavones are closely related to the antioxidant flavonoids found in other plants, vegetables and flowers. Isoflavones such as genistein and daidzein are found in only some plant families, because most plants do not have an enzyme, chalcone isomerase which converts a flavone precursor into an isoflavone. In contradiction to well known benefits of isoflavones, Genistein acts as an oxidant (stimulating nitrate synthesis),[33] as well as it blocks formation of new blood vessels (antiangiogenic effects).[34] Some studies show Genistein to act as inhibitor of the activity of substances in the body that regulate cell division and cell survival (growth factors).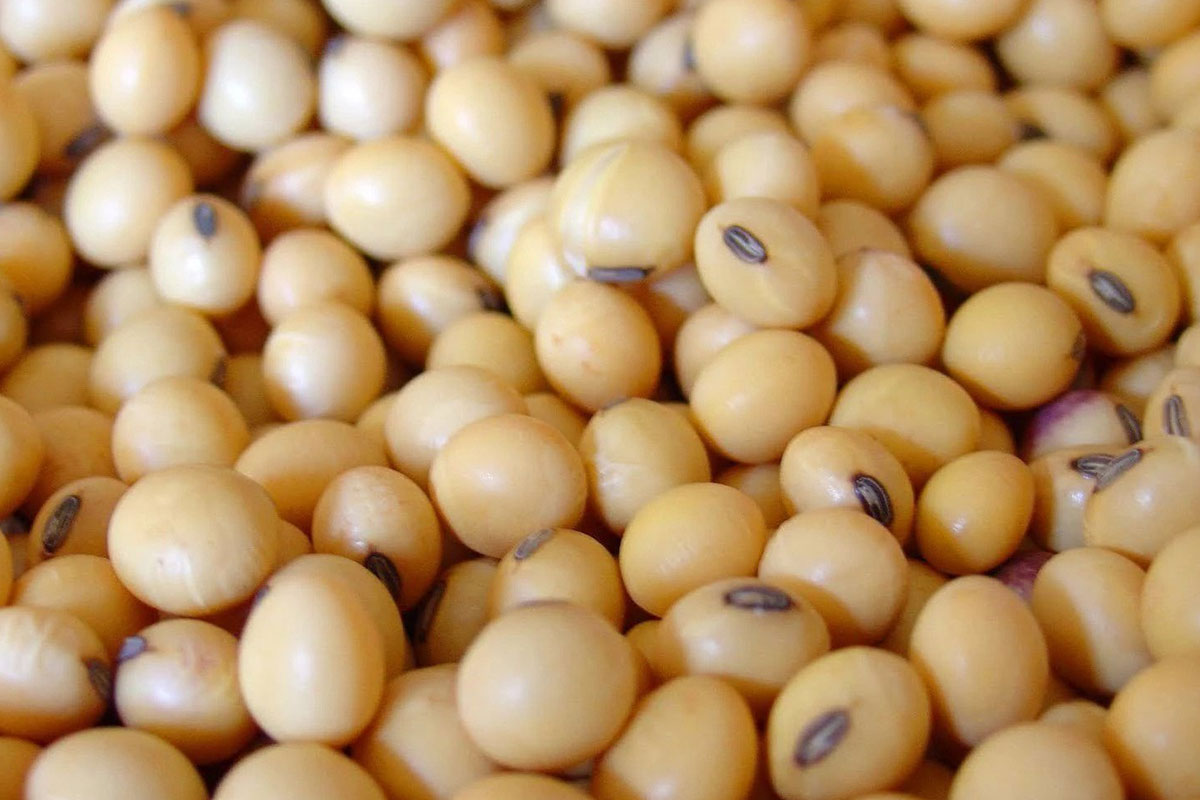 Description and physical characteristics
Soy varies in growth, habit, and height. It may grow prostrate, not higher than 20 cm (7.8 inches), or grow up to 2 meters (6.5 feet) high.
The pods, stems, and leaves are covered with fine brown or gray hairs. The leaves are trifoliolate, having 3 to 4 leaflets per leaf, and the leaflets are 6–15 cm (2–6 inches) long and 2–7 cm (1–3 inches) broad. The leaves fall before the seeds are mature. The big, inconspicuous, self-fertile flowers are borne in the axil of the leaf and are white, pink or purple.
The fruit is a hairy pod that grows in clusters of 3–5, each pod is 3–8 cm long(1–3 inches) and usually contains 2–4 (rarely more) seeds 5–11 mm in diameter.
Soybeans occur in various sizes, and in many hull or seed coat colors, including black, brown, blue, yellow, green and mottled. The hull of the mature bean is hard, water resistant, and protects the cotyledon and hypocotyl (or "germ") from damage. If the seed coat is cracked, the seed will not germinate. The scar, visible on the seed coat, is called the hilum (colors include black, brown, buff, gray and yellow) and at one end of the hilum is the micropyle, or small opening in the seed coat which can allow the absorption of water for sprouting.