2 Tbs soybean oil
2 cups chopped onions (about 2 large)1 cup chopped green bell pepper (about 1 large)
3 Tbs soy flour
2 (14.5 oz.) cans chicken or beef broth
1 1/2 cup chopped tomato
1 (8 oz.) package soy sausage-style links
8 oz. firm frozen tofu, thawed
1 tsp crushed red pepper
1 tsp ground cayenne pepper
1 tsp ground cumin
1 tsp black pepper
1 tsp chili powder
1 Tbs minced garlic
8 cups cooked rice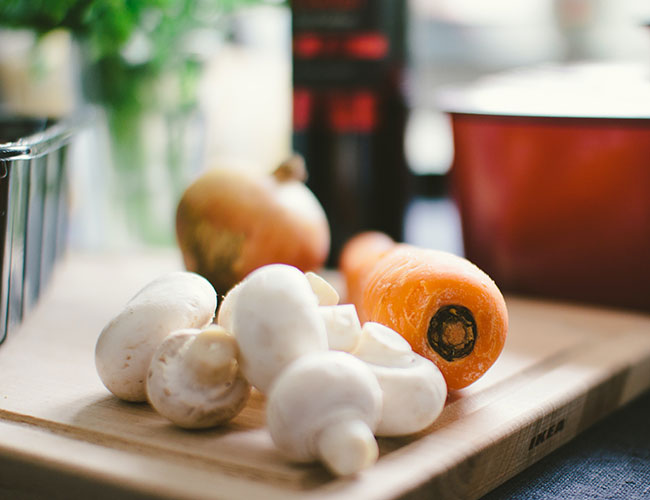 With medium-high heat, heat oil in large soup pot or Dutch oven. While oil is heating, squeeze thawed tofu of all water. It will be dry and crumbly. Tear into shredded-like pieces or chunks. Set aside. Add onions to oil and cook until slightly soft, about 2 to 3 minutes. Add soy flour and stir constantly as flour starts to brown, about 2 minutes. Add cans of broth. Raise heat to high and stir to loosen any brown bits from flour. Add green pepper. Cover pot and bring to a boil, about 3 minutes. Slice the soy links into 1/2-inch thick circles and add to soup pot along with tofu pieces, tomatoes and all spices. Cover and boil until the green pepper is tender, about 3 to 4 minutes. Serve stew immediately over cooked rice.
Yield: 8 servings. Serving size: 1 cup cajun stew over 1 cup rice. Per serving: 356 calories, 7 g fat (1 g sat fat), 15 g protein (8.5 g soy protein), 56 g carbohydrate, 600 mg sodium, 0 mg cholesterol,
3 g dietary fiber.
Tofu Stuffed with Brown Rice and Mushroom Dressing
The Tofu
1 pound extra firm tofu (hard Asian tofu is best)
1 cup vegetable broth (I used No-Chicken broth by Imagine Foods)
1/4 tsp. sesame oil
1 1/2 tbsp. soy sauce
1 tsp. minced garlic
1/4 tsp. poultry seasoning (or blend of ground thyme and sage)
Cut the tofu in half through the middle (hard tofu will already be cut).
Then cut each of the halves in triangles by cutting down through the top on the diagonal. (Yes, my favorite knife is purple.)
Turn the triangles cut-side down, and cut in half to form eight equal triangles.
Using a slender knife, carefully cut around the edges of the long side of each triangle, about 1/4 inch away from the edge. Be sure to hold the knife at the same angle as the edge of the tofu to avoid cutting through the outside of the tofu. Make your cuts as deep as you can without risking cutting through the outside wall.
Making additional cuts in a grid pattern helps in getting the tofu out.
Use a spoon (a grapefruit spoon works great here) to remove the tofu from the middle of each triangle. Go as deep as you can, being careful to keep the pouch intact. Set aside the tofu that you take out of the middle–you can use it in the gravy.
Put the tofu pouches in a shallow pan that will hold all of them on their sides. Mix the broth with the remaining ingredients and pour it over the tofu, making sure that some goes into the pouches.
Marinate for at least 30 minutes; then carefully turn the tofu over and marinate the other side for 30 minutes or more. When the rice is done, proceed with stuffing.
Brown Rice and Mushroom Dressing
1 large onion, chopped
1 rib celery, chopped
2 tsp. garlic, minced
6 ounces mushrooms, chopped
1 1/2 tsp. thyme
1/2 tsp. rubbed sage
1/2 tsp. rosemary
1/8 tsp. black pepper
1 cup long-grain brown rice
2 1/2 cups water
1 tsp. salt (optional)
1/3 cup chopped fresh parsley
Spray a large, non-stick pot with canola oil and set it on medium-high heat. Add the onions and celery, and cook until the onions start to become translucent, about 3 minutes. Add the garlic, mushrooms, herbs, and rice and sauté for another minute. Add the water and salt and cover tightly. Turn the heat very low and cook for about 45 minutes, or until rice is tender and water is mostly absorbed. Resist opening the lid until 45 minutes have passed!
Stuffing the Tofu
Preheat the oven to 400 F. Drain the marinade from the tofu and reserve it. Add the parsley and 1/4 cup of the marinade to the rice and stir. Spray two medium-sized baking dishes with non-stick spray. Using a small spoon, gently stuff each piece of tofu with as much rice as you can fit in. Stand the stuffed tofu in one of the two baking dishes. Put the remaining rice dressing in the other dish. Put both dishes into the oven and bake until the tofu is becoming light brown, about 35 minutes. Watch closely to make sure it doesn't burn on the bottom. Serve atop additional rice dressing with gravy (recipe below), if desired. Serves 4.
Tofu-Mushroom Gravy
This can be made without the tofu or mushrooms, if you choose.
1 small onion, minced
extra tofu from making Stuffed Tofu
1 clove garlic, minced
5 mushrooms, sliced
1/4 cup unbleached white flour (or gluten-free flour of choice)
tofu marinade
about 1 1/4 cups vegetable broth
1/2 cup plain soymilk
1 tsp. poultry seasoning
1 tsp. thyme
1 tbsp. nutritional yeast
1/8 tsp. Liquid Smoke seasoning
salt and pepper, to taste
Add enough vegetable broth to the reserved marinade to make 2 cups of liquid.
Spray a non-stick sauce pan with canola oil. Add the onion and sauté for about 3 minutes. Add the tofu and garlic, and cook, stirring, for 1 minute. Add the mushrooms and cook until they exude their juices. Stir in the flour and cook for about 3 minutes, stirring constantly. Slowly stir in the vegetable broth mixture. Add the remaining ingredients and cook, stirring, until mixture thickens, about 5 to 10 minutes.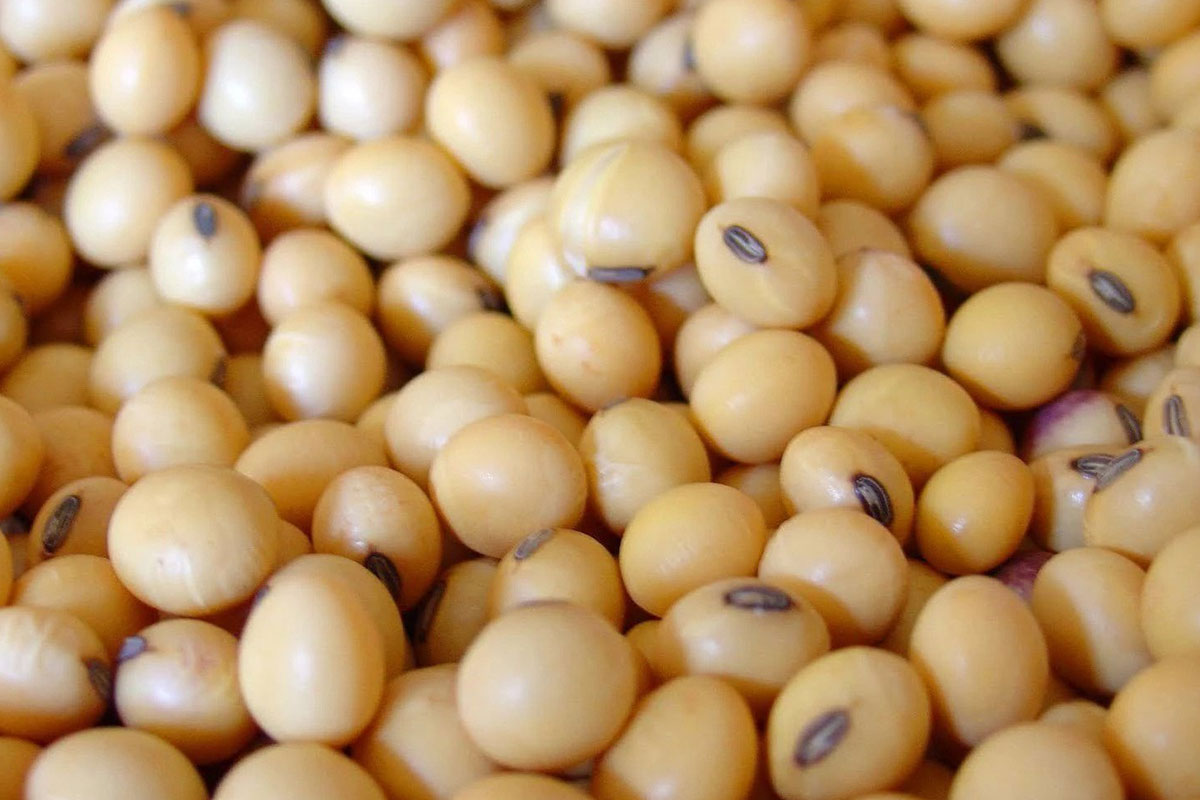 Tofu:
One the most popular soya products, tofu comes in many varieties and is used in multiple ways. Also known as bean curd or Soya Paneer, tofu has been around for a long time–it was probably first produced about 2000 years ago. One Chinese legend tells us that tofu was invented by a government official, who, because he refused to take bribes, was so poor that he experimented with soyabeans and came up with tofu, a dish he could afford on his modest salary. Another story credits a Chinese alchemist for inventing, or perhaps we should say,
discovering, the potential of using a by-product of soya milk. Buddhist monks from China introduced tofu to Japan, where it became a food considered so important–and sacred–that it is sometimes referred to as o-tofu, the prefix indicating the designation of "honorable." (note)
Tofu is produced by adding a curdling agent to soya milk, thereby separating the substance into curds and whey. The curds are then put into molds and left to stand, and within a few hours the curds are formed into firm blocks. Much of the tofu we see in today's supermarkets is packaged in water to keep it fresh, which is the way it has been stored for centuries.
Tofu absorbs other flavors, which is why, in our culture anyway, it is often used as a substitute for meat and dairy products. Many excellent cookbooks are available that describe how to use tofu as a substitute for cheese in lasagna, for example, or even as a substitute for cream cheese in cheese cake. Tofu is also a favorite protein source for stir-fry dishes and as an addition to miso soup.
Tofu is a low-fat, low-sodium, high-protein food; because it is a plant food, it contains no cholesterol, and it is an excellent source of isoflavones. Only a few years ago, tofu was used as an example of the kind of food "health nuts" consumed, but today, it has made its way into mainstream markets. In fact, about 75 percent of the tofu consumed in the U.S. is purchased in conventional supermarkets.