SOPROLEC-8-TB Lecithinated Toasted Soybean Flour
it's about effervescence…
Packing: SOPROLEC-8-TB is packed in valve type paper bags (net weight 25 kg). Each individual package is labelled with data for quality and quantity identification of product.
Storing: Keep in cool and dry places, protected from the outside influences. Shelf life: 12 months
PRODUCT APPLICATION
Meat Industry
SOPROLEC-8-TB 325 is a soy flour with similar characteristics as SOPRO-TB. The fact that SOPROLEC-8-TB 325 contains lecithin, which is one of the best natural emulsifiers, means that it has improved functional properties compared to SOPRO-TB 200 (emulsifying capacity). It can be hydrated with water in the ratio of up to 1:3. and is used in formulations both as meat extender and functional supplement (emulsifier). The usual dosage is in the range from 2 to 3% in final products. The optimum stabilisation will be achieved in products with the following chemical structure: Protein : fat : water = 1 : (1,5-3,5) : (5-7)
First, SOPROLEC-8-TB 325 should be hydrated in the cutter at the ratio of 1:3 during cold procedures, or 1:4 during hot procedures. After that, the usual order of other ingredients addition continues. In case of production in closed systems, during cold proceduresSOPROLEC-8-TB 325 is added as a dispersion (hydrated form), whereas during hot procedures SOPROLEC-8-TB 325 is added in dry form, together with other additives. The best effects in applying SOPROLEC-8-TB 325 as an emulsifier in the production of boiled, semi-dry and cooked sausages (for instance pates) will be achieved by previously
hydrating the recommended quantity in the cutter by adding 3-4 times larger amount of water. To prepare the suspension let the knives be in operation for only a few seconds. Meat, salt, necessary additives and spices, as well as other raw materials depending on the type of products and processing procedure are added on the prepared suspension.
Baking industry
Due to its high nutritive and biological values and improved functional properties that are the result of a subsequent lecithinating process, SOPROLEC-8-TB is used in baking industry at the dosage level of 1,5-3%, with addition of water in the ratio 28 SOPROLEC-8-TB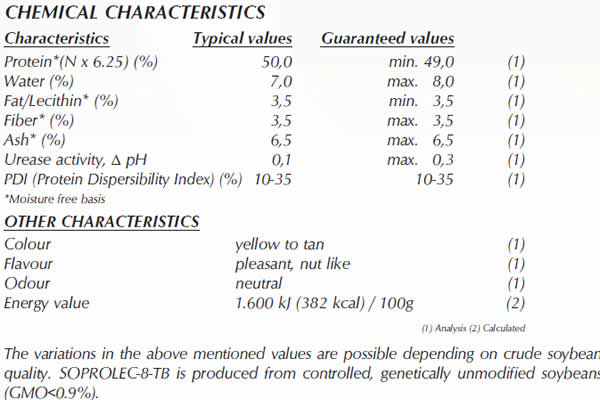 Dietetics and Pharmaceutics
SOPROLEC-8-TB 325 is used in production of various dietetic products (dry mixtures, preparations intended for additional nutrition of sportsmen and recreatives etc.), as well as in production of various dietetic foodstuff (bread and other baked products, pasta and confectionery products etc.). Depending on the desired effects and lecithin content in products, different levels of SOPROLEC-8-TB 325 can be used. In addition, SOPROLEC-8-TB
325 can be used in production of various dietotherapeutic products where the beneficial effects of lecithin are desired (protection of cardiovascular system, improvement of some nervous conditions, protection of liver etc.). of 1:2. It is an excellent emulsifier and stabiliser, so that it can replace either a part of
an egg or yolk in a product. It also fits into structures easily, enhances them and acts as an antioxidant thanks to a high tocopherol content.. Lecithin improves fat dispersion in liquid component of dough, enhances rheological properties of dough, crumb porosity and elasticity and it increases loaf volume and prolongs freshness of baked products. SOPROLEC-8-TB 325 is particularly recommended for toast-bread production
Confectionery Industry
Due to its properties SOPROLEC-8-TB 325 is used in confectionery industry in production of biscuits, wafers and chocolate spreads and toppings. In production of biscuits, SOPROLEC-8-TB 325 is added at the level of up to 20 % of wheat flour content, depending on the flour quality, in order to achieve better fat dispersion in dough, smaller droplets, more stable crystallisation, higher volume of product, better appearance, flavour and keeping quality. Adding of SOPROLEC-8-TB 325 in wafer products results in more homogeneous dough structure, quicker and easier baking, better and longer product shelf life. The wafers are crunchier, crispier, with better colour. SOPROLEC-8-TB 325 is an excellent emulsifier and stabiliser, so that it can replace whole egg, yolk or even milk powder in products.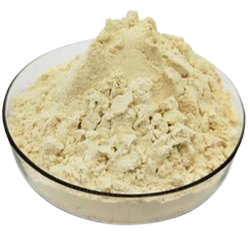 SOPROLEC-8-TB is a product prepared by an up-to-date processing procedure from selected, dehulled soybeans with higher protein content. It is the unique source of protein, respectively essential amino acids and protective ingredients, minerals and vitamins, which are necessary for total metabolism. By an adequate heat treatment the antinutritive factors have been inactivated thus increasing protein availability. SOPROLEC-8-TB is important due to its high nutritive and biological value and improved functional properties as a result of subsequent lecithinating process. It is an excellent emulsifier and stabilizer thereby permitting partial replacement of whole egg or egg yolk in products. It has high capacity of water absorption and binding, improved dispersibility, fat adsorption, protein network formation, structure enhancing and antioxidative ability, due to its naturally high tocopherol content.